Invited by the Nikon company, I've spent two days in Lisbon. The idea was to test two new models D7100 and Coolpix A, and this city is full of interesting places worth shooting. Bloggers and photographers from all over the world were invited and our Nikon hosts were exceptional.
Na poziv kompanije Nikon, proveo sam dva dana u Lisabonu. Ideja je bila da se oprobaju dva nova fotoaparata - D7100 i Coolpix A, a ovaj grad je prepun zanimljivih motiva za fotkanje. Iz cele Evrope došli su blogeri i fotografi koje je Nikon ugostio za svaku pohvalu.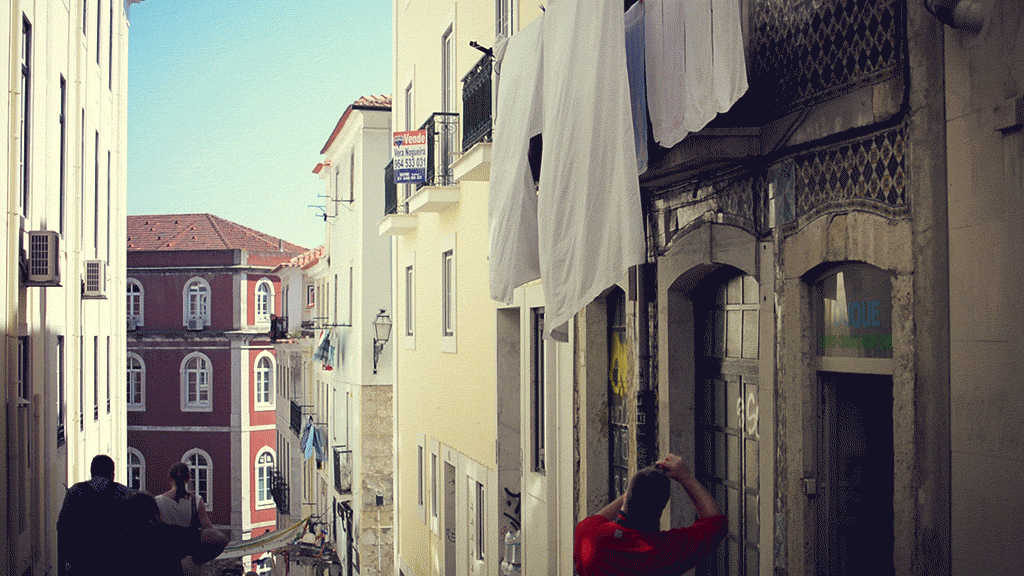 Lisbon is one of the oldest cities in the World, but more important, it has been one of the richest for a period of time - in the mid16th century. Thanks to this, there's plenty of interesting architecture and vintage aesthetics, carefully preserved.
Lisabon je jedan od najstarijih gradova na svetu, ali je zapravo mnogo važnija činjenica da je u jednom trenutku bio najbogatiji - sredinom 16. veka. Zahvaljujući tome, prepun je zanimljive arhitekture i "vintage" motiva koji se ovde brižljivo čuvaju.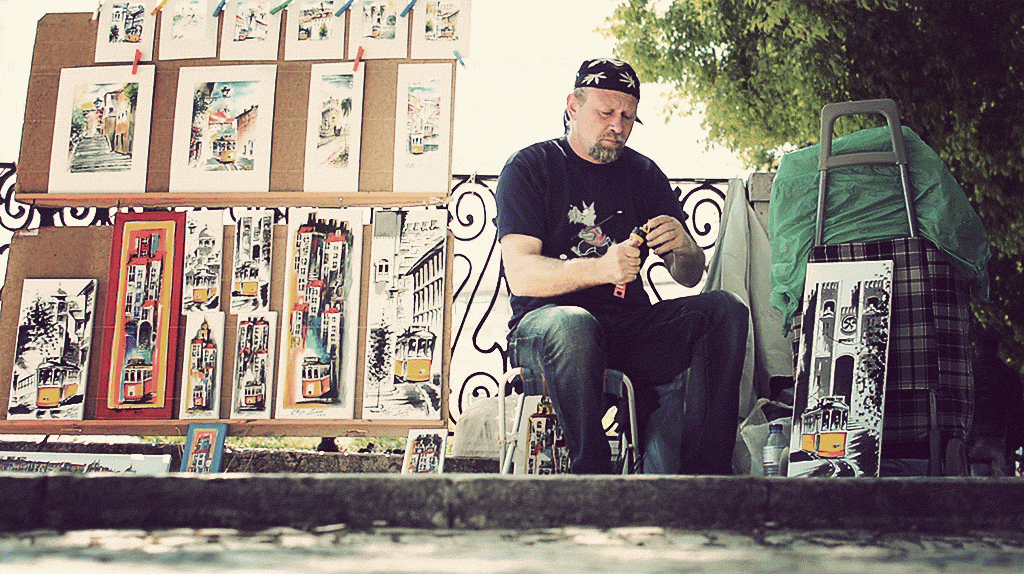 From the city centre, situated by the ocean, there are dozens of narrow mediterranean streets going uphill. Vintage trams are very common ih these streets. One cannot imagine a tram actually passing through such a narrow and inclined street, until it really appears and starts gliding downwards slowly.
Iz centralnog dela grada, koji je pored okeana, na sve strane se uspinju uske mediteranske ulice. U mnogima od njih prolaze tramvaji, koji su ovde veoma popularni. Prosto nemate utisak, kada se krećete strmom i uzanom ulicom, da tu može da prođe tramvaj, sve dok se ne pojavi i sporo klizi nadole.
The main pedestrian street is called "Rua Augusta". It is full of various-themed living statues. These human stones are cheering nearby people, playing with their children, giving performances with their slow-paced movements, entertaining the crowd. Physically, people in Lisbon are very similar to those in Brasil, they have those specific eyes, teeth and lips. They are similar nations after all.
Centralna pešačka ulica "Rua Augusta" je nešto kao naša Knez Mihajlova. Ona je prepuna ljudskih statua u raznim motivima. Ovi živi kipovi pozdravljaju prolaznike, igraju se sa njihovom decom, izvode performanse svojim sporim pokretima, i tako zabavljaju prolaznike. Po fizionomiji, dosta ljudi u Lisabonu izgleda kao u Brazilu, imaju one specifične oči, usne i zube. Ipak su oni srodne nacije.
The main square, Rossio Square is at the beginning of "Rua Augusta" street , which is common for capital cities - the main pedestrian street starts at the main square. Stone and old architecture are typical around the square and the city in general. The whole Lisbon is like a small seaside town, enlarged 100 times. Here you can taste their favorite drink "Ginjinha", cherry liqueur.
Centralni trg Rossio Square nalazi se na početku ulice "Rua Augusta", što je uobičajeno za glavne gradove - glavna pešačka ulica polazi od glavnog trga. Oko trga i u celom gradu dominira kamen i stara arhitektura, ceo Lisabon je kao neki primorski gradić uvećan jedno 100 puta. Na centralnom trgu možete popiti i njihovo omiljeno piće "Ginjinha", liker od višnje.
"Sintra" is the place near Lisbon, a series of castles that were built from the 9th century and later, all until the end of romantism. The tourists usually come here first. Sintra has some kind of romantic-medieval spirit, mixed with a bit of mystic and masonry.
"Sintra" je mesto pored Lisabona, kompleks zamaka koji su počeli da se grade još od 9. veka pa do kraja romantizma. Svi turisti obično prvo dođu ovde. U Sintri preovlađuje neki romantičarsko-srednjovekovni duh sa dozom mistike i masonerije.
Sintra is a favorite destination for artists from all over the Europe, who come to get inspiration and feel the specific spirit trapped inside these walls. Of course, streets are full of interesting shops containing hand made things you can not find elsewhere.
This picture below was shot with Coolpix A, Nikon's first professional compact camera. It is designed for photographers who want to carry a camera in their pocket, for all those spontanious moments when a large DSLR is not around.
Sintra je omiljena destinacija umetnika iz cele Evrope, koji ovde dođu da dobiju inspiraciju i osete specifičan duh zarobljen u ovim zidinama. Naravno, ulice su pune zanimljivih radnjica sa hand-made stvarčicama koje ne možete naći na drugim mestima.
Ova sličica ispod urađena je sa Coolpix A, Nikonovim prvim profesionalnim aparatom malih dimenzija. Namenjen je za fotografe koji žele uvek da imaju u džepu aparat koji može napraviti vrhunsku fotku u spontanim prilikama.
Night life of Lisbon is spread all over the clubs, and in the evening, you can listen to Fado music in restaurants. It is a musical genre protected by UNESCO, because of its authenticity and specific way of performing. When a singer performs Fado, everybody must be quiet - it is part of the tradition. In the clubs, the atmosphere is different, you can hear House or Dubstep, and besides shopping malls, it was the only touch of modern culture I've had.
Noćni život Lisabona raspoređen je u klubovima, a u restoranima u večernjim satima sluša se Fado muzika. To je muzički žanr koji je pod zaštiom UNESCO-a, zbog svoje autentičnosti i specifičnog načina izvođenja. Kada pevačica peva Fado, svi u restoranu zaćute, jer je to deo tradicije. U klubovima, atmosfera je drugačija, pušta se House ili Dubstep, i osim šoping molova, to je jedini dodir sa modernom kulturom koji sam imao.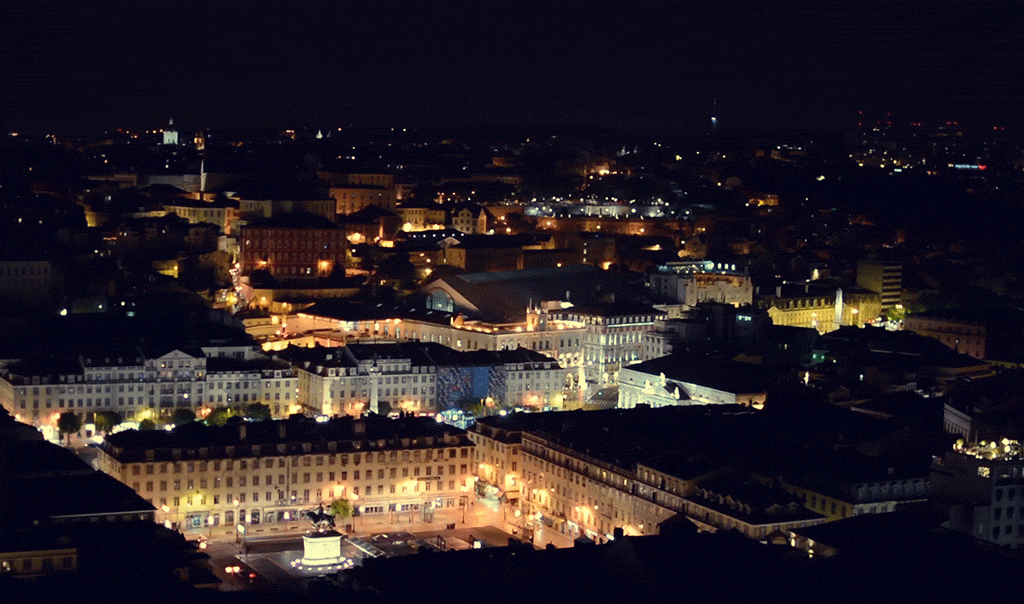 The ocean near Lisbon is a favorite destination of surfers worldwide, because huge waves are present throughout the year. We've spent a few hours here, shooting and talking to surfers. It was interesting to stare at mixture of surfers and people with large Nikon telephoto lens, crawling through the sand together. Here we could test all the features of new D7100.
Okean kod Lisabona je omiljena destinacija surfera širom sveta, jer ima ogromne talase tokom cele godine. Proveli smo par sati na ovom mestu, fotkajući surfere i pričajući sa njima. Bilo je zanimljivo gledati izmešane surfere i ljude sa glomaznim Nikon teleobjektivima kako bauljaju po pesku jedni pored drugih. Ovde smo mogli da testiramo novi D7100 po svim karakteristikama.
You can sense remainings of the one of the world's largest empire all over the place. The explorer mindset of these people has brought them rich colonies and possibility to build their city up to the very last detail. This explorer/adventure spirit remains even today, since one of the largest startup hubs is situated in Lisbon. This hub is gathering talented people working on various Internet projects, and is backed up by the state.
Na sve strane se oseća da je ovo nekada bila jedna od najvećih svetskih imperija - istraživački duh ovog naroda doneo im je bogate kolonije i mogućnost da svoj grad izgrade do najsitnijeg detalja. Ovaj istraživačko-avanturistički duh ne prestaje ni danas, jer se u Lisabonu nalazi jedan od najperspektivnijih StartUp Habova, mesta koje okuplja talentovane ljude na Internet projektima, a koje finansira država.
People on the street are very warm and similar to our mentality. Sport and football are being watched all over the place, coffee shops have announcements of forthcoming matches. I've had a feeling of being in Brazil all the time. In general, joyful people with eternal smile.

These are the cinemagraphs that I've made with Nikon D7100 and Coolpix A, and more of our photos are available on the official Nikon website. I wish to thank Nikola Tomovic from Nikon Serbia on everything, and especially thank you for helping me overcome my fear of flying :-)
Ljudi na ulici su poprilično srdačni i po mentalitetu slični nama. Svuda se gleda sport i fudbal, po kafićima najavljuju kada je koja utakmica. Ja sam sve vreme imao blagi osećaj da sam u Brazilu. Sve u svemu, veseo narod sa večitim osmesima.

Ovo su sinemagrafi koje sam napravio sa Nikon D7100 i Coolpix A, a još fotografija koje smo svi mi fotkali možete pogledati na zvaničnom Nikon sajtu. Zahvaljujem se na svemu Nikoli Tomoviću iz Nikon Srbija, a posebno hvala na motivaciji da izlečim svoj strah od aviona :-)